Column #12
August 4, 2017

Tradition and Innovation in Embodying "Cool Japan By Myself"
CEO / Designer of GLAMOROUS co., ltd.Yasumichi Morita
I'm proud of the fact that I've embodied the values of Cool Japan by myself while working overseas until now (laughs). I worked overseas for the first time when I was 30 years old, which was 20 years ago. I was involved in a design project for a restaurant franchise operated by a Japanese company in Hong Kong. As soon as I began, I thought to myself, "I'm in an incredibly challenging place." At the time, there were still many things in Hong Kong that were not yet in order. Although I experienced many hardships caused by differences in culture and law, the restaurant attracted plenty of attention when it opened, and that led to many requests from major local developers.
 Next, I worked on designing a restaurant in New York. The restaurant was in the Tribeca neighborhood, and it was a massive project that covered about 1,580 square yards. Its size was like that of a gymnasium, and the project took three years to complete. Construction stopped many times, and there were other issues such as contractor changes, but in the end, we managed to open MEGU New York.
MEGU New York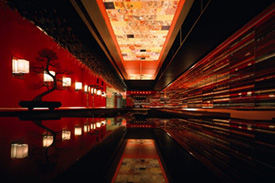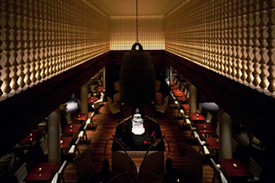 As I was designing for the project, I thought about an image of Japan that couldn't be found in Japan, which was a Japanese style that differed from what had existed earlier in history. At the time, Japan was not known as the world of Zen. The image that people in other countries had was of Zipangu, a place of festivals and excitement. That's what I based my design on. While Japanese people may not consider my design to be truly Japanese, if they take a closer look, they'll find many Japanese items - such as porcelain sake bottles and cups - inside the restaurant. For the MEGU New York project, the various circumstances that were unique to countries outside of Japan, and even the construction fee itself, required a large budget. However, business flourished and, quite surprisingly, balances were in the black in just one year. From that point onward, embodying Cool Japan by myself became a part of my life.
MEGU Midtown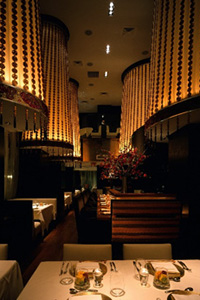 In New York, one can find the strictest laws, the most expensive rent, and the harshest public opinion in the world. In the Japanese mindset, making a large investment in a single restaurant building and having the restaurant paid for within one year are both unimaginable, but each and every day, there were parties and the restaurant and the space would be fully booked. At the time, Mr. Trump, the current president of the United States, would come to the restaurant every day. He once said to me, "Come to my building next time." When I answered that the rent was too high, he told me, "We can discuss it." That's where our conversation went, and what I ended up designing was MEGU Midtown. With these two branches, the high-end Japanese restaurant chain MEGU was able to stand on par with NOBU - the top brand at the time - in only about three years.
 After that, my work began to diversify. During the time, what was in my mind was how I could present a mixture of the Japanese and the new, season the mixture with uniqueness and elements of surprise, and then show it all off as one brand. The image of Japan I was showing may cause Japanese people to feel slightly out of place, but that feeling is exactly what my business was about. Therefore, I thought it would be a good idea to deliberately add change and originality to items that were around me and then present them to countries outside of Japan. Even if I bring existing items in their original form overseas, people would only say "Oh, thanks," and that would be the end of it. That's why I believe Cool Japan is about protecting Japanese traditions while adding our own originality to its revolutionary components to provide them to new end users and use them to create different spaces.
Japan is a country that gathers lots of positive attention. There are plenty of people who have traveled to Japan many times, and there are those who know Kyoto better than I do. Some even fly all the way to Japan just to have 50,000 yen sushi at a certain restaurant. In order to make an impression on such people, I need to be serious when I face them. That's why we need to provide authentic items that foreign experts of Japan would consider to be original. The level of what is being demanded is high, but I consider it to be an opportunity to make the most of the attention Japan is receiving.
 The restaurant that I designed in Jakarta opened this April, and the one I designed in Qatar will open in September. The restaurant in Jakarta is rather casual, while the one in Qatar is the main dining establishment in a hotel. The price points of each restaurant differ, but they are similar in the sense that each design is exclusive to the region the restaurant is in. Overseas, the situation behind going to a restaurant - as in who you go with and why you're going - is very important. Rather than being a place to fill up your stomach, restaurants allow people to connect and fulfill a variety of purposes, such as to talk about new businesses. Because the purposes are always different, I believe that it's very important to understand the lifestyles of the local people and base my designs on them. Despite the fact that situations vary in each country, I believe that it is our job to create something that offers an opinion that does not yet exist in the area and also serves as a landmark.
 There are things - such as cost reduction and negotiation - that I can only do because I have 20 years of experience in working on projects overseas and an accumulation of practical knowledge. If a design requires three years of work to complete, negotiations need to be made about costs during the process. In overseas projects, it's important to understand how much more in sundry expenses is required compared to Japanese projects. It's also important to be fully prepared and determined before taking on a project.
 Of course, not everything went well from the beginning for me. Plenty of things happened along the way. There was a time when the representative of the client quit unexpectedly, and before I realized, they started working for a rival company. Mental toughness is also very important when it comes to working overseas.
Even from a business perspective instead of a designer's perspective, the power to design that Japan has in fashion and art is valued very highly overseas, and I believe there are still many chances available. Having said that, that are plenty of great things as well as available space in other countries. In their eyes, Japan is but a single option among everything else. I also think we should maintain a sense of charm in order to be covered by the media.
Furthermore, it is important to focus on the "super-real," which is to have something that is not only covered by the media but also experienced or picked up by the customer. There is currently a flood of information available, which makes it difficult to understand what is actually good. Because of this, I feel that we have reached a point where we are returning to what is true to life.
 Like the ISETAN The Japan Store I designed in Kuala Lumpur, I believe that places where fantastic Japanese objects and things can be presented - which are exactly what I mean by super-real spaces - will become incredibly important in the future.
ISETAN The Japan Store Kuala Lumpur
PROFILE
Yasumichi Morita
CEO / Designer of GLAMOROUS co., ltd.

Born in Osaka, JAPAN in 1967.
Since starting with a project in Hong Kong in 2001, he has successfully broadened his appeal to New York,London, Paris, Doha and other major cities.
He has also enthusiastically been expanding his career as a designer displaying his talents across a wide variety of graphics and products.
His works include "ISETAN The Japan Store Kuala Lumpur" based on the concept of Cool Japan in 2016,
which has received high praise.
In 2013 his first monograph "GLAMOROUS PHILOSOPHY NO.1" was published by PARCO Publishing.
He has branched out as an artist and his solo photo exhibition "Porcelain Nude" has been annually held in Paris since 2015, which received high praise. Awards: SEGD Global Design Award, A' Design Award and Competition, Design For Asia Awards, the International Hotel and Property Awards, INTERNATIONAL PROPERTY AWARDS, THE LONDON LIFESTYLE AWARDS, the Andrew Martin Interior Designers of the Year Awards etc. http://www.glamorous.co.jp