Column #11
March 31, 2017

MOKUBA Ribbons: Sweeping the World off Its Feet
Artistic Director of MOKUBAKeiko Watanabe
Established in 1967, MOKUBA is a company that has continued to design and produce ribbons of the highest quality over the past 50 years. After the opening of "MOKUBA FRANCE" in Paris in 1990, we have also created showrooms in New York, Barcelona, and Toronto. Our ribbons are featured in the collections of renowned designers in fashion-forward regions such as Paris, Milan, and New York, especially after we opened.

 The company's turning point came when we opened "MOKUBA FRANCE" in 1990. At the time, the number of companies in the fashion apparel industry that opened stores overseas was quite limited. Right after I started working at MOKUBA, my father's company, I visited and performed research on wholesalers in Paris in 1985. What I found was that much of the stock was disorganized. I also felt that the quality of our company's products was higher than what was available. To me, it was an opportunity. It sparked my interest in wanting to start a new type of store in Paris.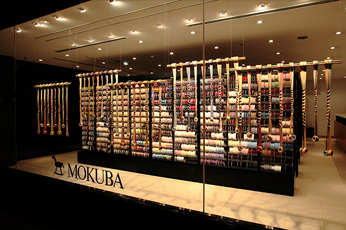 MOKUBA Showroom
 Including width and color variations, MOKUBA carries a total of approximately 50,000 products. In addition to ribbons, we also have decorative trimmings, lace, and others as well. Despite the number of different products we offer, we place great emphasis on unity in our product lines, especially unity in color. Because of this, our company only has one designer (my father served for quite a while as the designer after he started the company, and I took over the role afterward). When it comes to perception, the human brain perceives appearance before anything else. Deciding how we should display our products was a challenge, as we needed to think carefully about how we wanted customers to see the products and think about possible combinations. I believe that making a presentation unified is the most important part when it comes to appealing to the senses.
 My goal was to create an organized space that customers could enter and easily choose what they desired - a space that is neat without unnecessary clutter. I eliminated what was overly sweet, and also any elements that would link one's mind to the Japanese sense of wa (harmony). The taste or image I was after was one that could first make customers wonder where our company is from, and then guide them in appreciating just how cool "Made in Japan" could be after they realized we are a Japanese company.
 After all the preparations, we opened our Paris showroom to members of the fashion industry the day before its grand opening. At the time, we decided to give our customers small pairs of ceramic scissors marked with the MOKUBA logo when the visited. Then, we would ask them to cut away as much ribbon as they wanted. Together with the ribbons, we would offer the scissors as a gift, too. This turned out to be a very attractive scheme. We sent out 400 invitations, and having 40 people attend would have been considered a great success already. However, over 300 people came and visited us that day.
 Before the customers left, we handed them a copy of the press release as well as a package of ribbons. We made sure that each of them returned to their companies or homes with our press release that described MOKUBA as a Japanese company, and also illustrated our history and our plans in Paris. We could convey our own senses through our ribbons, but we also wanted to ensure that our message was properly conveyed in print. We wanted the customers to keep a copy of our message.
 What everyone began talking about was the package that we handed out together with the press releases. The impact they had was enormous, and they have become so popular that we now send out "Special Ribbon Packages" once or twice each year, which is similar to presentations of The Paris Collection. Through the packages, we share products that exhibit the present state of MOKUBA. Rather than making direct sales proposals, we send these packages for recipients to use in adding to their inspiration and possibly incorporating into their creations. The number of packages we send increases every time, and we now offer our "Special Ribbon Packages" to about 2,600 customers around the world.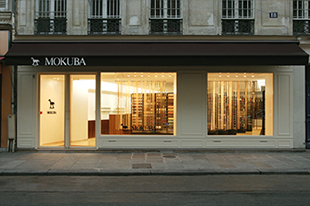 MOKUBA FRANCE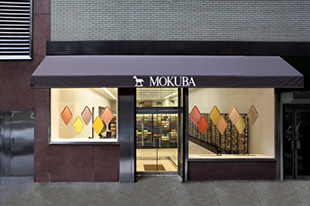 MOKUBA NEW YORK
 From the very beginning, the image of MOKUBA was not designed to be a Japanese one. It would be more accurate to describe our company as one that's directed towards a European market. Our products are the same regardless of where they are to be sold, and we adhere to our concept of offering modern products that allow customers to experience the present. We generally maintain stock of every product we have ever offered, and we do our best to meet the needs of our customers, regardless of the circumstances. To create perfect products and deliver a perfect lineup to the customer has been the philosophy of MOKUBA since my father's era.
 All of our products are made in Japan, and 80% of them are internally manufactured. The designs of our decorative trimmings and laces are also completely original. No matter what combination a customer selects, the colors will always match. This allows us to offer a wide range of variation. We pay close attention to the safety of our products, and we take precautions such as ensuring all products are free of any harmful substances. Our ability to consistently meet deadlines is an important aspect of our business as well. We do our absolute best to do everything in a sincere and principled fashion.
 We've come to realize that our products are being used by designers around the world, and it's not just our newest releases. For example, some ribbons we designed a decade ago are being used in the latest creations. Our brand image of having "ribbons = MOKUBA" has been firmly established in Japan and other countries as well. In the 2005 Mainichi Fashion Grand Prix, I received first prize for having the majority of designers use the ribbons we offer, and also for "sweeping the world off its feet."
 It can be said that the philosophy of creating what others cannot, bringing our creations overseas, starting our businesses, and continuing to work with sincerity is what Cool Japan is about. It's about Japanese people doing what has never been done before. Creating something good is not enough. It should be something that others cannot possibly create.
PROFILE
Keiko Watanabe
Artistic Director of MOKUBA

After graduating from Gakushuin University Graduate School, Watanabe joined MOKUBA Co., Ltd in 1985 and now serves as executive director.
She is also involved in designing and producing a wide variety of elaborate ribbons, laces, and more.
Watanabe won first prize in the 2005 Mainichi Fashion Grand Prix.